Welcome
We are so glad that you are interested in visiting New Life Church. We seek to bring glory to God and preach the Gospel of Jesus Christ in all that we do. We call our services "Celebrations" because that is what they are - A Celebration of who God is and what He has done.
What to Expect
Celebrations last about ninety minutes and you'll find an informal crowd and atmosphere. We have intentionally structured the music, teaching and prayer to reinforce the gospel and lead us in genuine worship.
We typically teach through books of the Bible (expository teaching). We value team worship-leading and team teaching and are always rooted in the gospel. Worship music is lead by a full band and is most often a mix of hymns and modern worship songs. See some of our past Sermons.

Past SermonsJoin a groupFind an EventServe at this campus
Planning a Visit? Let us know!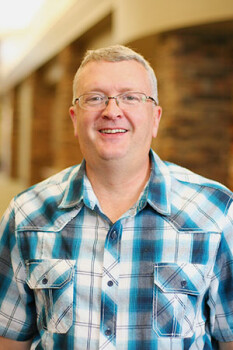 Claude Davis
Campus Pastor

Nursery
Our Nursery (birth-24 mo) provides a safe, loving and nurturing environment for your child. As you enjoy the worship service, we make every effort to make sure your child's needs are being met.
We keep our child-to-volunteer ratio low to ensure your child's safety while in the nursery. In each classroom, there are interesting, sanitized toys and manipulatives to engage and challenge children at every level of development. Our ministry volunteers are instructed on making every child's early church attendance a positive experience.
Nursery Times
Sundays, 10 am
Guest Registration
Child Dedication
Child dedication is a public commitment you make before God, your church, and your family. The dedication provides you, the parent(s), an opportunity to express publicly your desire to lead and spiritually nurture your child in the Gospel. Contact us to take this step.
Pre-K
We use comfortable child-friendly language and manipulatives to share the gospel. Our dedicated, parents, volunteers, and staff spend a large portion of time teaching as well as having your child retell the part of the Bible story in their own words using the manipulatives. Because our well trained teachers realize that even though your children may respond to questions correctly, their true understanding often comes through repetition and their own telling of the part of the lesson.
Pre-K Church
Sundays, 10 am
Awana
Wednesday Nights, during the school year hosted at the Gahanna Campus. Awana establishes welcoming, supportive environments where kids, from every background and cultural setting, learn how a personal relationship with Christ affects their everyday lives.
Elementary
The Worship Celebration for elementary kids (grades 1-5) begins with an engaging large group time of worship and ends with age graded small groups. During the large group worship time kids will experience creative music and teaching styles with an emphasis placed on how the Bible fits together and points to Jesus, the ultimate hero of God's big redemptive story.
Kids Celebrations
Sundays, 10 am
Awana
Awana establishes welcoming, supportive environments where kids, from every background and cultural setting, learn how a personal relationship with Christ affects their everyday lives.
Middle School
The ZONE has proven to be the most exciting middle school ministry in Gahanna for the past 20 years and is still going strong!! Our goal is to create a gathering for middle school students that is both FOCUSED and FUN!! Each Wednesday night, middle school students from all over Gahanna and other communities join together for great snacks, exciting games inside and out, and most importantly, Bible teaching you can understand, small group discussion with your peers, and prayer. If you are in Middle School, the ZONE is the place to be on Wednesday Nights from 6:45-8:30pm!
Questions? Contact Brett Starr, Student Ministries Director
The Zone
Wednesdays 6:45-8:30 pm during the school year
Games, Bible Study and Small Groups.
Keep in touch
High School
In our High School Ministry (9-12 grade) we seek to come alongside parents in pursuit of impressing God's Word on the hearts of their teens. We want to minister to the entire family even though our primary ministry is to teenagers and Provide a place where the students and parents alike are encouraged in their relationships with God, with other believers and with each other as a family.
On the weekends we encourage high school students to join with their families in the Celebration service. Our primary connection times are on Tuesdays at ReNew.
Questions? Contact Brett Starr, Student Ministries Director
ReNew
Sundays, 5:30-7:00pm
A place where High School students can get their questions answered along with great music, teaching, and discussion on relevant topics. Every third Tuesday is Sports Night, a time for hanging out with friends in the main auditorium.
Keep in touch
CHECK-IN & CHECK-OUT PROCESS
When visiting New Life for the first time you will be asked to fill out a registration card. To save time you may fill it out now and bring it when you come to church. For security purposes, your copy of your child's name tag will be required when you return to pick up any child. If you lose your name tag, please be patient as a New Life kids supervisor verifies guardianship. If parents are needed at any time during the service, the number on their parent receipt that corresponds to their child's nametag will be texted and/or called.
WELLLNESS
For the safety and wellness of ALL the kids that attend KidzLife and Student Ministries we ask every parent avoid bringing a child with any of the following:
A temperature of 100° or higher

Diarrhea, vomiting, upset stomach, or any visible rash other than diaper rash

Any drainage from the eyes/ears, open sores, nasal discharge that is green or yellow

Extreme irritability or exhaustion

Head lice or mouth sores

Persistent coughing or sneezing (allergy or asthmatic symptoms excluded)

If any member of the family contracts a contagious illness (i.e. pink eye, strep throat, head lice, chicken pox)

Any illness that prevents them from fully participating in classroom activities
CLASSROOM SIZES & POLICIES
For safety reasons, we do limit the number of children in a classroom at any given time. The classroom size is based on appropriate, pre-determined child-to-teacher ratios.
Please note that in order to provide a carefully screened environment with trained volunteers only, we must ask parents to refrain from entering any classroom unless requested by KidzLife Staff. If you would like to visit your child's classroom, please have your child's classroom leader contact KidzLife Director for approval or contact us beforehand.
THOROUGHLY SCREENED VOLUNTEERS
Our volunteers go through an in-depth screening process, which includes completing an application, going through a background check and training.
ALLERGIES & MEDICAL CONCERNS
If your child has special allergies and/or medical concerns, please be sure to note these when first registering your child. These will appear every week on your child's tag. If you forgot or need to add an allergy or medical concern to your child's profile, someone at the Kids Welcome desk can assist you or you can contact us.