Eyes Wide Open
Saturday, February 08, 2014, 9:00 AM - 11:30 AM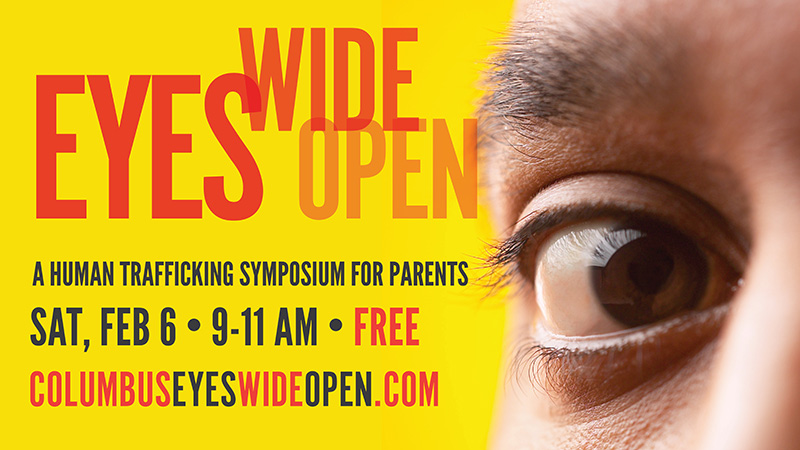 Website: http://columbuseyeswideopen.com
Share:
---
Symposium for Parents on Human Trafficking
A Human Trafficking Symposium for Parents and Teens
Each year an estimated 100,000 to 300,000 U.S. children are at high risk for commercial sex exploitation. At least 100,000 U.S. children are caught up in child prostitution. Average age of entry into prostitution is 12 to 14. Studies suggest that 90% of runaway youth become involved in the commercial sex industry. Human Trafficking is the second fastest growing crime in America after drug trafficking.
It is happening in Gahanna too. Gahanna is a prime target due to the closeness of the airport and nearby shopping and entertainment venues. Major events in Columbus create a demand for a commodity which is plentiful – our young people, boys and girls.
The Human Trafficking Awareness Symposium is targeted primarily at parents of elementary to high school age. It is designed to make them aware of what human trafficking is and the dangers their children are in. It will include proactive things parents can do to protect their children, ways to recognize kids who are trafficked and what to do if your child is taken and trafficked.
We welcome our speakers, Judge Paul Herbert, found of the CATCH Court program and Megan Crawford, Executive Director of Gracehaven.
This event will take place on Saturday, February 8 at New Life church at 3690 Stygler Road from 9 until 11:30. If you haven't registered through an evite, go to columbuseyeswideopen.com to register.
Admission is free. For more contact or at 475.8500.
Find Eyes Wide Open on Facebook